Welcome to Pender Island Golf Club!
The Pender Island Golf Club is nestled in the valley just a stone's throw away from Otter Bay and is one of British Columbia's most beautiful nine hole public courses.
With four elevated tee boxes and expansive views of the shots that lie ahead, the course is deceptively challenging, yet accessible for all handicappers.
The course is open seven days a week, year round, weather permitting. The public is welcome to play as well as browse through a well stocked pro shop, and we welcome visiting tournaments, small and large.
Please check our Facebook page for information on course conditions and weather related closures, and look for the signs located on the first tee box.
PLEASE RESPECT SOCIAL DISTANCING AT THE COURSE.  When on the golf course or at the clubhouse, please respect physical distancing guidelines and keep 2m (approx 6 ft) between you and other people. Thank you!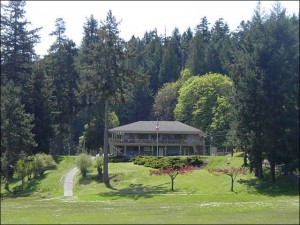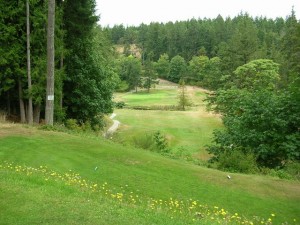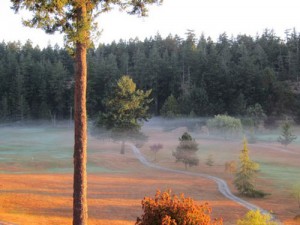 Click on images to enlarge
One of B.C.'s most beautiful 9 hole public golf courses. This Gulf Island Jewel offers four elevated tee boxes and affords expansive views of the challenging golf shots that lie ahead. The course is deceptively challenging, with 6 separate tees for the back nine, yet it is a great recreation destination course for all handicappers.
The signature #8 hole features 2 elevated tee areas and plays 230 yards over water to an undulating 3 tiered green. A replica of the stone bridge at St Andrews is a feature of this hole, with extensive rock work on both the 8th and 9th holes adding to the spectacular setting. With bald eagles soaring high above the valley layout….. it's hard to imagine a more enjoyable situation for a round of golf.
History
In 1937 several Pender residents put up money to purchase a 60 acre parcel from George Grimmer (a son of Pender pioneer Washington Grimmer). These first individuals and many others took out memberships and worked hard to plan and develop the layout, and build the tees and greens.
Incorporated as a society in 1945, with the exception of a brief hiatus during World War II, Pender Island Golf Course has run continuously since that time. From the beginning, member volunteers have played a major part in the upkeep and development of this wonderful golf course, of which they are justifiably proud.
Open year round (honour box for green fees during peak off-season), the public is welcome to come and enjoy this wonderful golf facility, to browse through the well stocked golf shop, spend some time on the putting green and practice area or simply come to enjoy an excellent lunch or dinner at our club restaurant.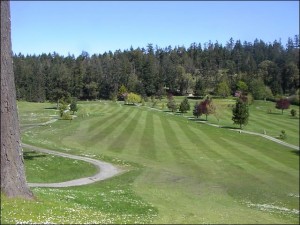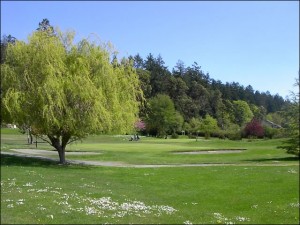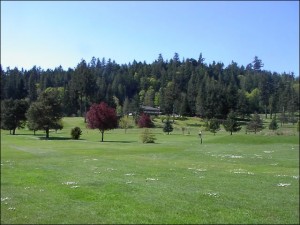 The Pender Island Golf Club acknowledges that the land on which we are gathered is the traditional territory of the Hul'qumi'num Treaty Group, Te'mexw Treaty Association, Tsawwassen (sc̓əwaθen), and W̱SÁNEĆ Peoples.